Home Coming Party
Homing ceremony is now an important function connected to the Sri Lanka weddings. Whether it is a Sinhala, Tamil or Christian wedding, now it is important to have one for the newly married Srilanka couples as the traditions changes a lot. Tamil also celebrate as "4m Sadangu".
Main part of the event is to serve non-veg food to their relatives and friends along with drinks. In some Sinhala and Christian weddings the main wedding ceremony is attended only by close relatives and grand style. But the Home coming party is richer than any thing with lavish spending at mostly it takes place at any luxury hotel or in Wedding or banquet halls in the evening.
The halls used to be decorated by professional artists with options for adding helium balloons with the groom's name and bride's name on it.
Banquet hall owners will provide special banquet chairs along with beautiful seat cover along with Sashes. Most of the functions start at 6.30 PM in the evening and goes up to 12.00 midnight.
Normally the guest numbers from 200 to 1,000 for the Home coming ceremony depending the status of the family. What are the most important things you need to have for the hoome coming party?
One professionally designed wedding cake for the home coming event. Cake price range some where from SL Rs. 3,000/- to 15,000/-.
Banquet hall booking must be done early for that great event of your life. Normally the hall owners used to charge per head. Rs. 1,000/- - Rs 2,500/- + Cover charge 10,000/- some time charged by them. So if you got 400 guests then you will be charged 400,000/- for the whole event where many kinds of tasty dishes including Buriyani, yellow rice, fried rice, stringhoppers briyani along with mutton, chicken, shrimps, fishes and many more curries will be set on the Buffet table. Welcome drink and delicious deserts are too will be provided in the package.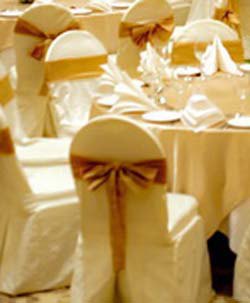 If you wish to serve cocktails you have to do it buy yourself where this cost may run up to Rs.150, 000/- depending what you serve.
Professional camera man and a videographer are necessary to cover the whole event at your home coming.
DJ or live music band may cost some where Rs 50,000/- to Rs 400,000/-
Make up for the Bride too may cost around Rs 25,000/- to 75,000/-
So these home coming events are once in the newly married couple's life. So they will not bother about spending so much money to dine and entertain their relatives and friends on that day. There are hundreds of banquet halls and hotels are ready to serve you for the event in Colombo and suburbs.