Video and Photography for the Wedding
Today's weddings and marriage registration ceremonies are captured as video using latest Digital Video cameras and digital still cameras for long lasting still and video images of the wedding with crisp and brilliant colors. Wedding videos and wedding photographs are photographed by professional photographers who have much experience and vast knowledge about all kind of religious marriage ceremonies. Their knowledge of marriage ceremonies allow them to position themselves with the camera to capture the next movement of the bride and groom in perfect angle.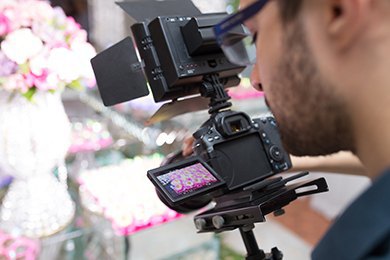 Still photographers and videographers used to takes nearly one hour of shooting session with the beautifully dressed bride at the specially designed place in the wedding halls or any other suitable place. These photographs will be used to make storybook type album or coffee table album with the latest cold laminating method after editing the photographs in the computers.
Like wise wedding videos are recorded in HD quality to playback of nearly one to one and a half hour in DVD, blue-ray disc or any other suitable media requested by the wedding party. There will be original background sounds included while in some portion they used to add special songs to enhance the watching experience of the wedding video.
Also the photographers in Sri lanka used to present large enlarged beautiful pictures mounted in frames to hang on walls or to mount on tables along with the master copies. It is better to book the best photographers early as soon as possible as there may be more weddings on that day that you had chosen to have your wedding ceremony.
Also make sure they are coming in two groups as to cover the events from the Bride's house and at the same time to cove those events at the Bridegroom's house and later they can decide on which one will work at the wedding hall, temple or church.
Wedding photo album will be given in a special cover with the couple's names and wedding date engraved on it. They can be as Registration album, box album, coffee table album and story book models. Mean while you can order any number of wedding DVD and Blue-ray discs from them. Also you can ask them to keep the master copy for future production.
This matrimony photographers charge for their service according to their experience and they offer compliments such as extra copies or enlarged framed photos of the wedding. It's better to have a look at your recently married friend's or relative's video and photo albums to have the idea about your choice. These days some professional videographers make the marriage like a movie, with special effects, lighting through professional video editors. Our best wishes, for your Happy Wedding.
Video and photography always come in to one package from the service provider. Both the wedding video and wedding photography used to cost from US$ 500 to US$ 1,000 in Colombo, Srilanka. In the year 2013 a expatriate Tamil wedding took place in Sri Lanka and the photographers provided 2 photo albums weighing 11 KGs, some DVD and Blue-Ray copies and the total cost was Rs 3 Lakhs.
Post your Studio Details here by contacting subaweb@yahoo.com.
STUDIO LAKSHAN
Digital Studio & Colur Lab
No: 36, Kotmale Road,
Talawakelle,
Sir Lanka.