Wedding Invitation Cards.
Wedding invitation cards take important place in the Tamil wedding event. Most of the designs and productions of the wedding cards are done in India and then exported all over the world directly to the customers or to their dealers. The wedding cards making companies heavily depends on the computer to design the wedding cards and the accompanying wedding card covers. The main card color is standard and it won't be visible as a main thing for the order making parties. If you check the wedding card there won't be much difference from the other wedding card design as basically there are only some limited designed from them. There are basic boarder and the Ganapathy design are there for you to select from them. Also the difference is in the size and the number of pages and the containing covers too differ in your order.
Another thing you must take care is the color as you see in the computer screen will be too different when you get the actual order in your hand. So always get a sample first before you decide on the final design and the card order number.
In Srilanka and Tamil Nadu in India, most of the shops which are selling the wedding cards have already printed the complete wedding card and the cover. You provide them the wedding invitation in Tamil and English and the names which should be placed in the cover and the front card they will give you the full order within 3 - 5 days of time.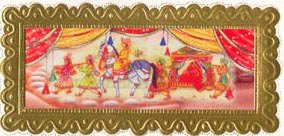 Also you can print the gift bags for the wedding guest in the same color of the card and the design from the wedding card selling shops. Normally they have 2,000 - 3,000 of one model number of wedding cards for sale. In any given Tamil wedding ceremony both parties together print out 400 - 1,000 numbers of wedding cards to invite guests to the wedding ceremony. Most of the wedding halls in Colombo have entertaining facility for 1,000 guests with seating and dining facility.
So decide first on the number of wedding cards you will need to have printed as the price of a completed wedding card will fetch around Rs 500 to Rs.3, 000. Thus if you decide to print 400 cards at the cost of Rs 1,000 will cost you nearly 4 Lakhs rupees.